It appears that remains loyal to his friend T.O.P through thick and thin. Despite the recent marijuana scandal that forced T.O.P to lay low, G-Dragon still took his time to catch up with his bandmate. The two were recently spotted having a meet-up in Itaewon, Seoul.
According to an onlooker, he was in a shop just drinking his coffee when he saw two familiar faces standing outside. The onlooker then took a picture of the alleged two stars chatting on the street and shared it online.
One of the men was facing the camera, but his face was not clearly seen due to the blurry quality of the image. Based on his posture and haircut, however, it's presumed that the man was G-Dragon whose real name is Kwon Ji Yong. Another man had his back facing the camera and was wearing a hoodie, but he's believed to be T.O.P.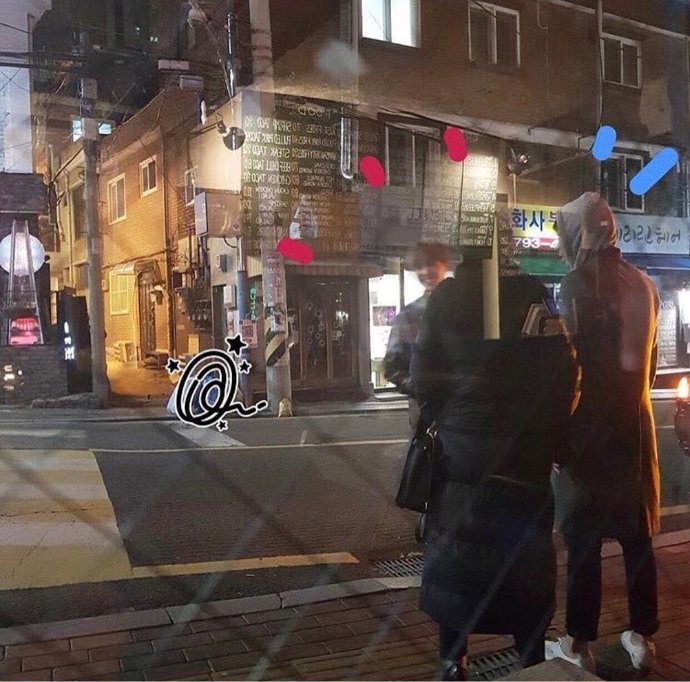 On November 4, G-Dragon posted an old picture of all five members of Big Bang. Many suggested that it was his subtle way of celebrating the birthday of T.O.P, who turned 30 years old that day.
Big Bang, minus T.O.P, is scheduled to hold a year-end concert in Seoul. Titled "BIGBANG 2017 Concert in Seoul", the upcoming show will be held on December 30 and 31 at the Gocheok Sky Dome with G-Dragon, Taeyang, Daesung and Seungri set to participate.
It has been reported that G-Dragon, Taeyang, Daesung and Seungri will all head to mandatory military service next year in the spring. Daesung and Seungri have some time left before the deadline, but they reportedly decide to enlist together with the older members so that Big Bang can come back together as a group as early as possible. T.O.P, meanwhile, will complete his mandatory service as a public service worker after his marijuana use scandal.
Taeyang recently about the end of Big Bang. In a portion of tvN's new variety show "Livin' the Double Life" filmed when he was in Thailand for a solo concert, he was asked about what group songs they would sing at the tour in Japan. The coordinator suddenly brought up the talk about "the last" for the group. "The title for this is 'Last Dance' and this is really the last…," she said. Taeyang then replied, "It might really be the last time, I'm so sad…" He sighed as he added, "What are we gonna do? It's over for us, ah."
Taeyang explained to the show's MCs, "I always have similar worries with every album release, and while it might never be 'the end,' it feels like I'm going to hold my 'last' performance [soon] because I have a long hiatus awaiting me… I wonder if it will still be possible for me to release albums and perform on stage after I come back from the army."
He also admitted that he always misses his group mates. "To be honest, I always miss them. Even during this interview, I miss them," he said on the show. The "Eyes, Nose, Lips" singer even moved to the hotel where Big Bang stayed two years ago for nostalgia's sake. "The performance team booked a different hotel. However, I really liked the times I spent with my members during the 'MADE Tour' at [a different] hotel, so I changed hotels," he said.