Kim Woo Bin has personally given an update on his health since announcing his diagnosis with Nasopharyngeal cancer in May. The 28-year-old actor took to his official fan cafe to post a handwritten letter addressed to his fans.
"Hello, this is Kim Woo Bin," he began. "I wondered how to start my first sentence for a long time after holding up the pen. Although I'm greeting you guys through a letter, my heart is pounding as if I'm standing in front of you guys." He continued, "I wanted to let everyone know sooner, but I've been so occupied with receiving treatment and taking care of my body that a total of 7 months have passed."
"First, I think I need to talk about my current condition which is what you are curious about the most. Back in May, I was diagnosed with nasopharyngeal cancer, an illness I've never heard of," he went on sharing. "Thanks to all of your support and prayers, I have successfully completed 3 chemotherapy sessions in addition to undergoing radiation therapy a total of 35 times. I was able to withstand it all while reading everybody's encouraging messages on the fan cafe. Thank you from the bottom of my heart."
Woo Bin said that "he's gradually recovering after safely receiving treatment and going for follow-up testing." He added, "I've also been taking strolls from time to time and eating meals on a regular basis, and I feel that I'm gradually getting better. However, I think it will take some more time for me to greet you all. … Through this opportunity, I will take extra care of my health and work hard to only deliver good news."
"I pray only the good will happen in the new year for everyone and their families who are going through a difficult time right now. I hope 2018 is only filled with happiness, and I hope all is healthy. One day, I'll come back healthily as if nothing happened. I always appreciate you guys. Thank you. I love you," he concluded the letter.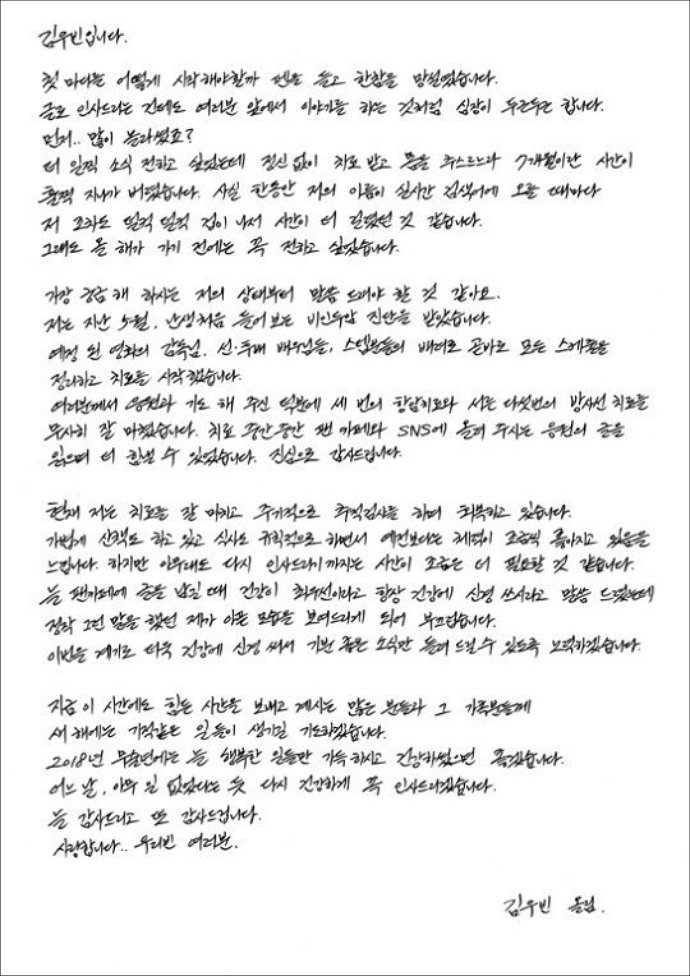 As reported before, Woo Bin halted all activities since he was diagnosed with Nasopharyngeal cancer in May. His agency SidusHQ said in July, "His condition is improving a lot. We're waiting for the results of his health examination, and we'll decide on his further treatment afterward. He's doing better enough to exercise."
His girlfriend Shin Min A has reportedly shown constant support for him during the treatment, and was often seen accompanying him to the hospital.