In light of sexual misconduct allegations in Hollywood, stars turned the red carpet of the 75th Golden Globe Awards into a sea of black. Mixing glamor with making social statement, , and more managed to still look stunning in their black dresses.
Jolie oozed classic beauty in a long gown with sheer, see-through top that was accentuated with feathers at the sleeves. Arranging her hair in a simple updo, she added diamond jewelry. The 42-year-old actress/director took her son Pax, 14, to the event.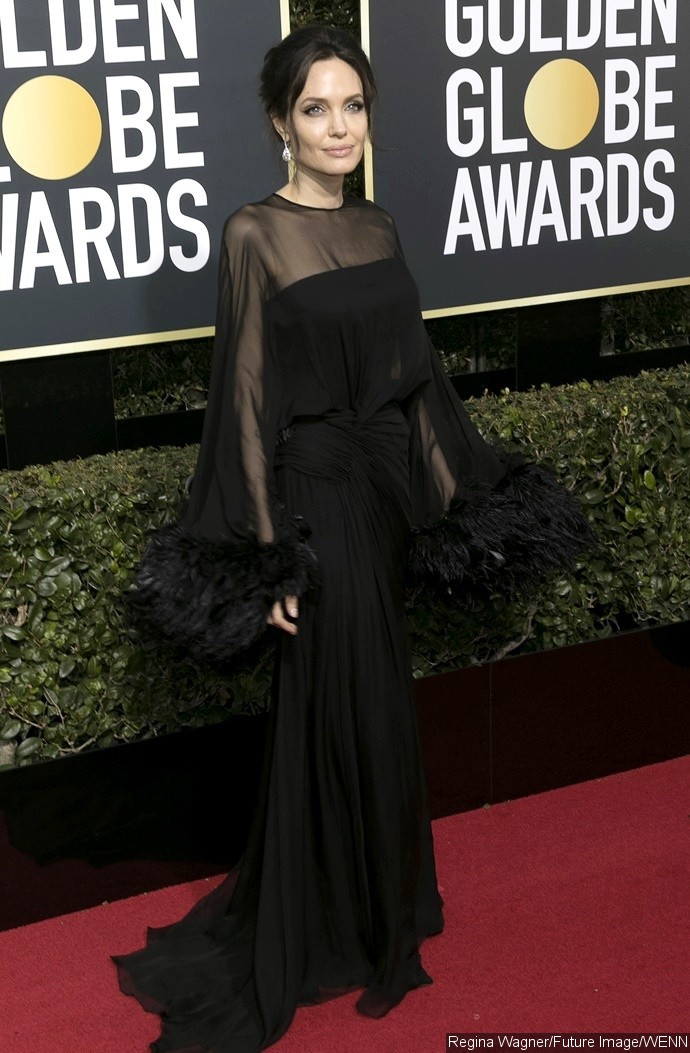 Washington shone in her sparkling black dress with a thigh-high slit that showed off her leg. Her sequin dress, which was designed by Prabal Gurung, was hand-embroidered with a raw edge silk chiffon detail. The "" star arranged her hair in loose waves.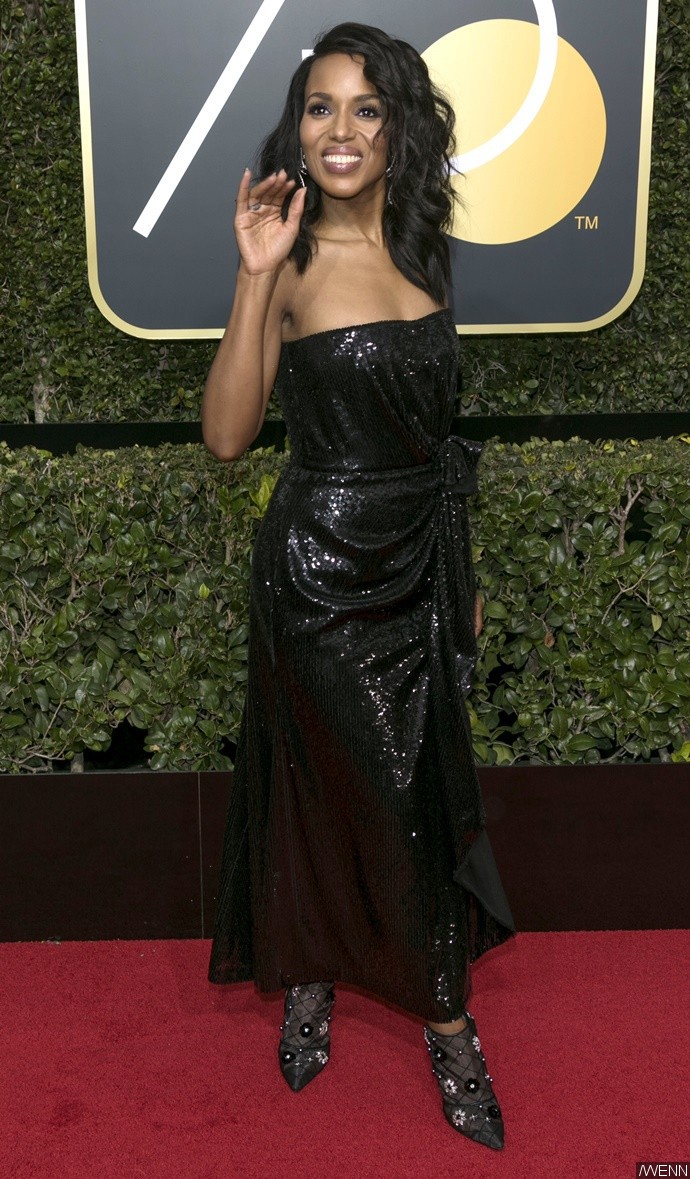 looked ethereal in a black sheer strapless gown. She brought along her husband , making a rare red carpet appearance together. Reality TV star/model also turned heads in her dramatic gown.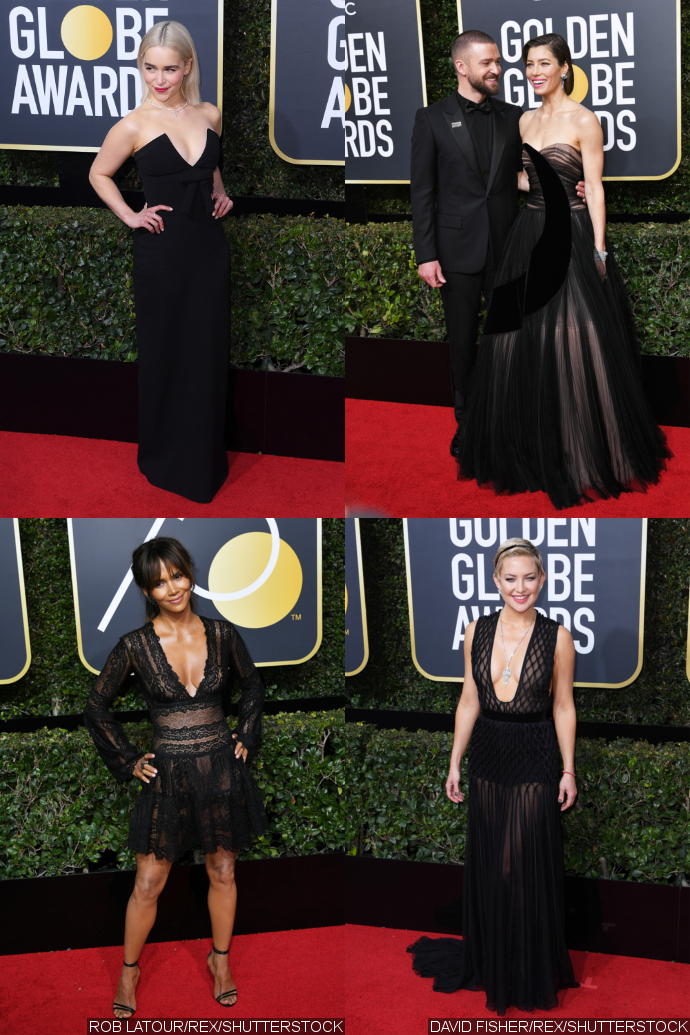 , and brought sexiness to the red carpet. Wearing a sheer black lace, Zeta-Jones said, "The dress code didn't say anything about not looking our best." Hudson and Berry also showed some skin in their dresses with very plunging necklines, with the latter opting for a short number.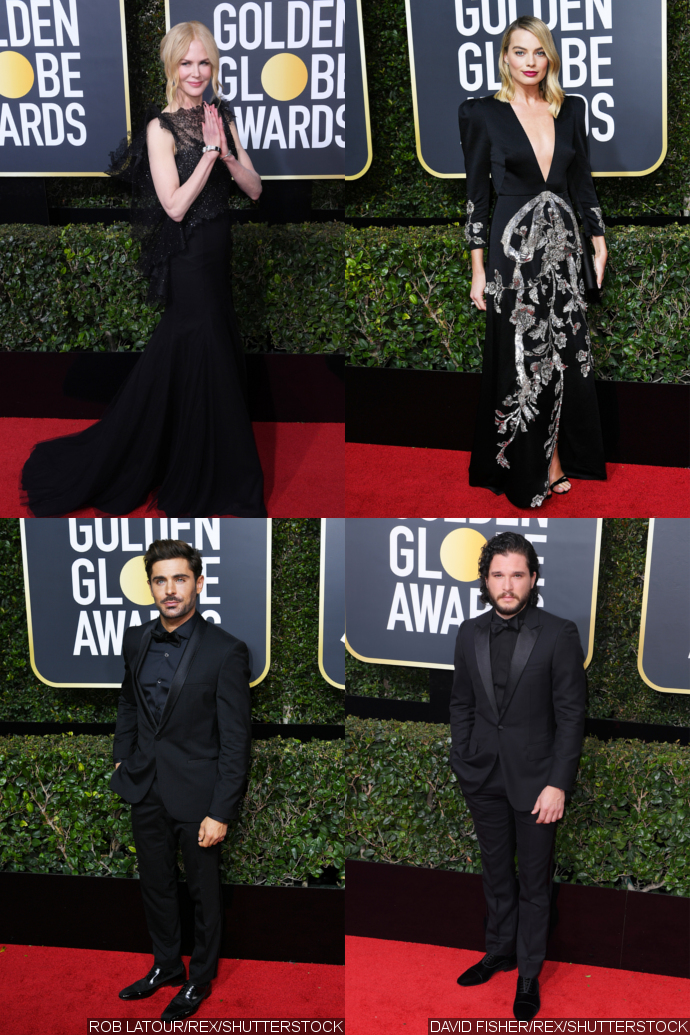 We're proud to present Sebastian Stan, @octaviaspencer, @jes_chastain, Dakota Johnson, & Catherine Zeta-Jones on the Red Carpet (before they present #GoldenGlobes awards on stage tonight)! #Globes75 pic.twitter.com/zbsIcdS7na

— Golden Globe Awards (@goldenglobes) January 8, 2018
Stealing the spotlight not just with their looks, , , , , , , and brought female activists to the red carpet. Williams was joined by Tarana Burke, creator of the #MeToo movement.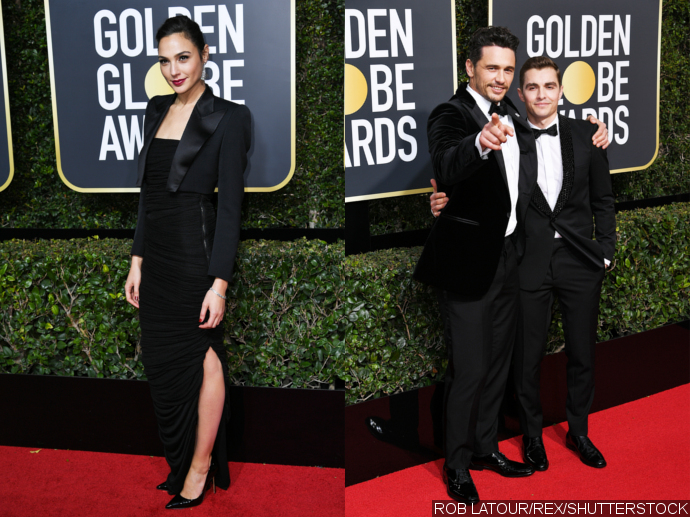 Luckily there's no showdown on the #GoldenGlobes Red Carpet for @SteveCarell! #Globes75 pic.twitter.com/8VCzET5H5O

— Golden Globe Awards (@goldenglobes) January 8, 2018
The British are coming! Claire Foy, Matt Smith, @freddiehighmore and @EmmaWatson. #GoldenGlobes pic.twitter.com/0JkJM5aHUN

— Golden Globe Awards (@goldenglobes) January 8, 2018
, , , , , , , and were also a vision in black on the red carpet. In male department, , , , , , , , and more looked dapper in their suits.
A night of Big Little Lies at the #GoldenGlobes with @shailenewoodley, @ZoeKravitz and @RWitherspoon. pic.twitter.com/s4aOAcAi35

— Golden Globe Awards (@goldenglobes) January 8, 2018
Natalie Portman, #GoldenGlobes Red Carpet. pic.twitter.com/i0QAhyF9em

— Golden Globe Awards (@goldenglobes) January 8, 2018
Grooving down the Red Carpet now, it's @kelly_clarkson, @common, @nickjonas, and @ricky_martin! pic.twitter.com/50LfSRek1B

— Golden Globe Awards (@goldenglobes) January 7, 2018
.#GoldenGlobes Red Carpet! pic.twitter.com/OKB1WvDUen

— Golden Globe Awards (@goldenglobes) January 7, 2018
.@NBCThisisUs stars @skelechiwatson, @SterlingKBrown, @justinhartley are beginning their walk down the red carpet. #GoldenGlobes pic.twitter.com/jzDyVIdQTI

— Golden Globe Awards (@goldenglobes) January 7, 2018
The #GoldenGlobes Red Carpet is getting more and more handsome! Hi Armie Hammer, @RealHughJackman, @chrishemsworth and Garrett Hedlund! pic.twitter.com/q6pWNI1fFs

— Golden Globe Awards (@goldenglobes) January 8, 2018
2018 Golden Globe Awards: | |