and may be still among the biggest stars in music right now, but domestically their daughter Blue Ivy rules. This is apparent when the young girl put her parents in their place at the 2018 Grammy Awards.
Blue, who came to the event with her famous parents, was seated between Jay-Z and Beyonce on the front row. The 6-year-old girl was captured on camera telling her parents to quiet down as they kept applauding while gave a moving speech. She was seen gesturing toward her mother and father to calm it down as everyone else had stopped clapping.
This moment didn't go unnoticed by viewers at home. One Twitter user reacted, "THIS VIDEO BLUE TELLING BEYONCE AND JAY-Z TO STOP CLAPPING SO SHE COULD LISTEN TO CAMILA TALK IS ALL I NEED IN LIVE."
Blue really told Beyoncé and Jay Z to calm down 💀 pic.twitter.com/BrTHWNr9ix

— Best song on ST (@beyupdates_) January 29, 2018
Beyonce and her family skipped the red carpet session, but they still brought high fashion to the event. The "Formation" singer wore a high-neck black velvet gown featuring cut-out shoulders and a solo front panel. Wearing purple lipstick, she completed her look with jaw-dropping shoulder-length earrings, dark shades and a large black hat.
Blue looked chic in a white ruffled coat with matching trousers and sparkling silver shoes. Meanwhile, Jay-Z looked sharp in an all-black suit. He is nominated for eight awards, including Album of the Year and Best Rap Album for his latest effort "".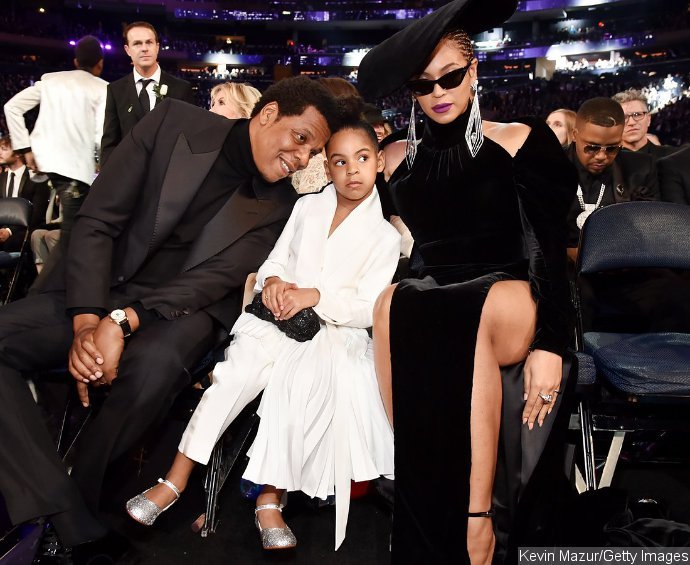 Last year, Blue stole attention as she joined host and other celebrities for Carpool Karaoke. The comedian invited a bunch of celebrities, such as , , , , , and Ryan Tedder, for an impromptu rendition of Diamond's hit "Sweet Caroline", before Jay-Z and Beyonce's daughter with them on the stage.