is no stranger to sharing nude or semi-nude photos of herself. But it seems like people are still not getting used to it. The "" star has taken to her Instagram account to share yet another raunchy photo of herself, featuring her stripping down to literally nothing.
Sitting on a chair, the 20-year-old actress covers her modesty with her arms, which she places strategically over her chest. Rocking bright red lips, the redhead beauty flaunts her incredible figure.
The photo's seemingly taken in a dressing room during her gig for a fashion week show as she is surrounded by colorful clothes hanging on a rail. "This was fun #fashionweek #2017highlights," she captions the provocative photo.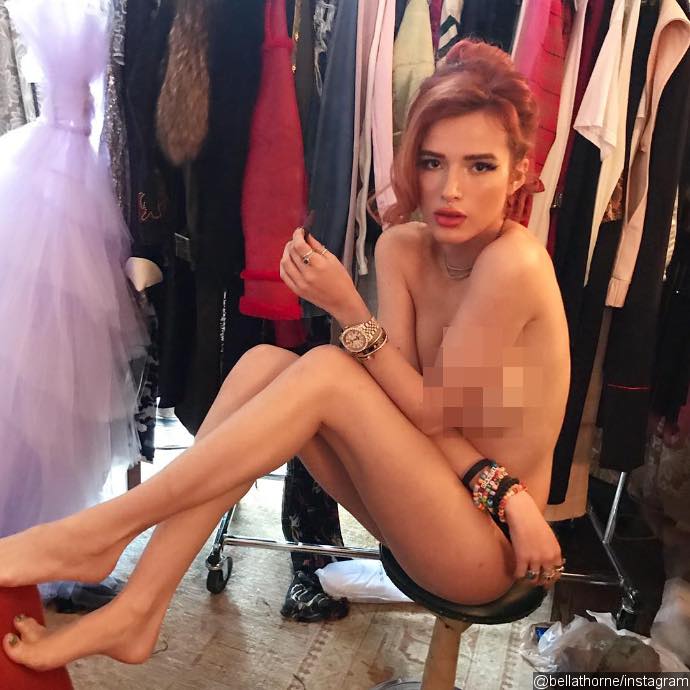 Fans' responses are mixed with some of them criticizing the actress for exposing her skin too much. "I wish I could dislike pictures," a fan sarcastically writes in the comment section. "What is wrong with this girl ????" another fan comments, with another saying, "You have boobs. We get it. You can put them away now."
Some others, meanwhile, praise Bella for her beauty and give supportive messages for the actress. "F**k these haters babe! Keep doing you!!! You're so beautiful!!!" a fan writes. Similarly, another fan adds, "Damn you have a great body," while another fan comments, "Absolutely stunning you are so beautiful."
Just recently, the former Disney darling teamed up a sultry corset with a matching lace underwear, black garters and red gloves to transform herself into . She gave plenty look at her sideboob as she posed sideways beside a Christmas tree while donning a Santa hat. "Hi santa bb," so "" star wrote in the caption. She also shared a slew of photos of her and YouTuber Tana Mongeau, whom she was previously rumored to be dating.